Community Garden
"Participation in gardening can bring benefits to the well being of many people, whatever their age or ability"

Vegetables grown by the Playgroup children looking healthy
Sadly, after the Playgroup finished, the garden was not maintained and became an eyesore. We have had to remove the fencing and all what was in the garden, mainly because of the spreading weeds.
If any group is interested in RE-CREATING this project
We have kept the photos and comments below to show the hard work that took place to create the garden and the potential opportunity the area could still provide.
---
FENCING (End of Feb.2010)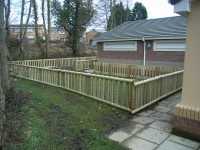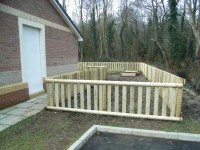 The fencing around the Community Garden area is nearly complete.
---
TREE PLANTING
The tree planting project took another step forward, with the trees being transferred from the children's homes to the Community garden.
Under the leadership of John Roberts the trees were planted on Saturday morning, 28th November 2009.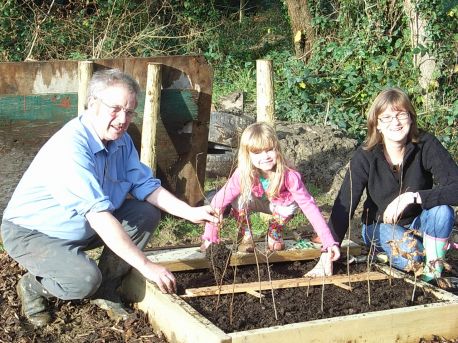 John with Nia and Lynda Morgan
November 2009
Work commences on the fencing
16th October 2009
Work is starting soon on the new Allotment and Play Area (see below). It will be a joint project, funded by the Community Council, Michelle from the "Bright Beginnings" Playgroup and the Llancentre Committee Development Fund. The Development Fund was boosted by a donation of £250 from The Old Bridge Inn, which was specifically given for this project

Katie Lewis of the Old Bridge Inn presents a cheque to Huw Thomas (Chairman of the Llancentre Committee) towards the Community Garden Project. Also in the picture is Michelle Coffey of the "Early Beginnings" Playgroup and three of her early beginners.
30 September 2009
The next development of the Community Garden at the Centre, is to provide a facility which would include an allotment and play area for children of nursery and infant ages. It would consist of an "L" shaped area, bounded by the river, the Library and the Morlais Meeting Room. The area will be fenced off with a 1metre high fence.
More details to follow.
---
Inspired by the rural setting of the Community Centre, the committee have decided to develop a Community Garden around the site

The first stage of the project was to plant daffodil bulbs (all Welsh produced). Children from the Infants and Junior schools at Llangennech, pupils from Ysgol y Strade and volunteers from the village, carried out planting in October.
Further bulb and tree planting will take place in the Spring, hopefully funded by sought after grants.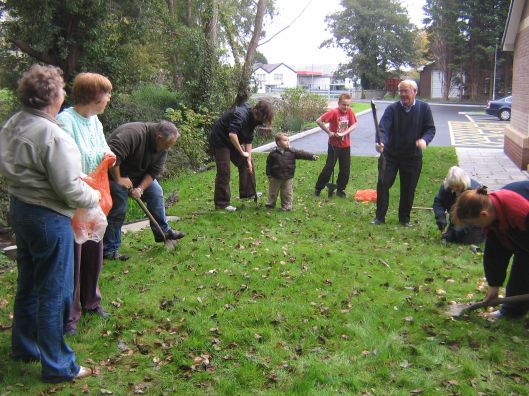 ---