News
TICKETS for our next show on October 12th are NOW on Sale.
* * * * * * * * * * * * * * * * * * * * * * * * * * * * *
NEW DEFIBRILATOR IN THE VILLAGE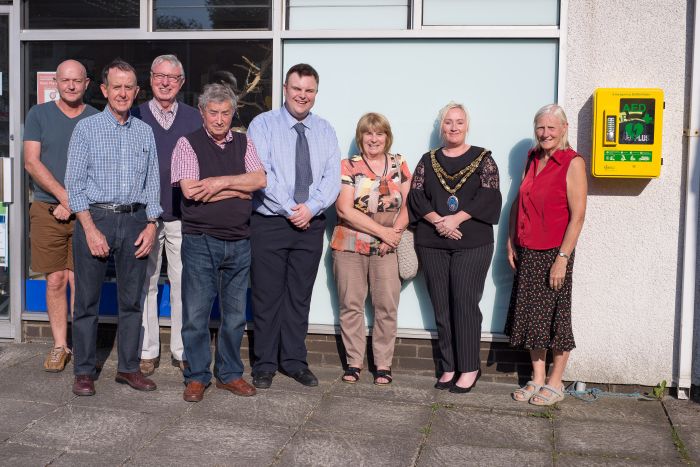 Llangennech Community Councillors are delighted that there is now a defibrillator with 24 hour access in the village.
The Community Councillors would like to thank the Ambulance Service and "Cariad" for supplying the defibrillator and case.
Thanks also to Mr Martin Gravelle and Mr Jamie Thorn for allowing the defibrillator to be placed on the outside wall of the pharmacy.
In the photograph are Mr. Jonathon Wooldridge the pharmacist together with Councillors Gary Jones, Colin Lee, Bill Griffiths, Glendon Davies, Gwyneth Thomas, Marian Slader and Community Council Chair Jacqueline Seward.
Defibrillator Training will take place at Llangennech Community Centre on Wednesday evening, 30th May, at the Bryn Hall on Wednesday evening 6th June and at Llangennech Community Centre on Wednesday evening 13th June. The training will be provided by Rob Evans and Gerald Rothwell from the Welsh Ambulance Service. All Training Sessions are free of charge and will be held between 06.00pm and 08.00pm.To book a place, telephone Gwyneth Thomas on 01554 821637
MIKE DOYLE RETURNS AGAIN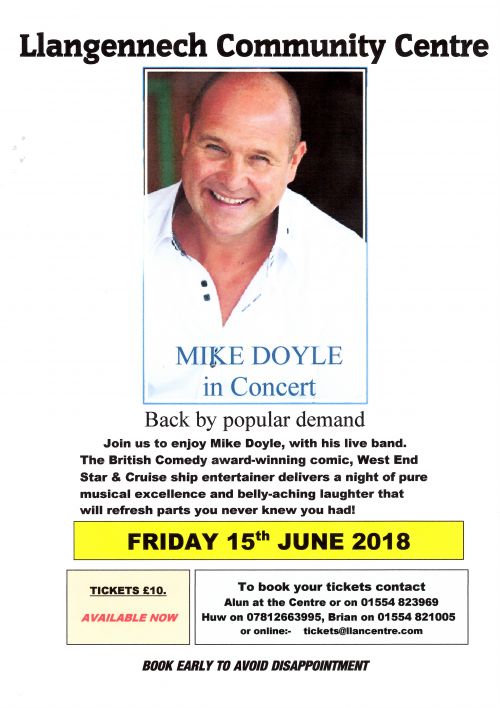 .
NEW YEAR'S EVE SHOW
After the success of last year's NEW YEAR'S EVE SHOW we have booked Soul Dragon Band again for the end of this year.
See video below taken after their visit in February 2017
---